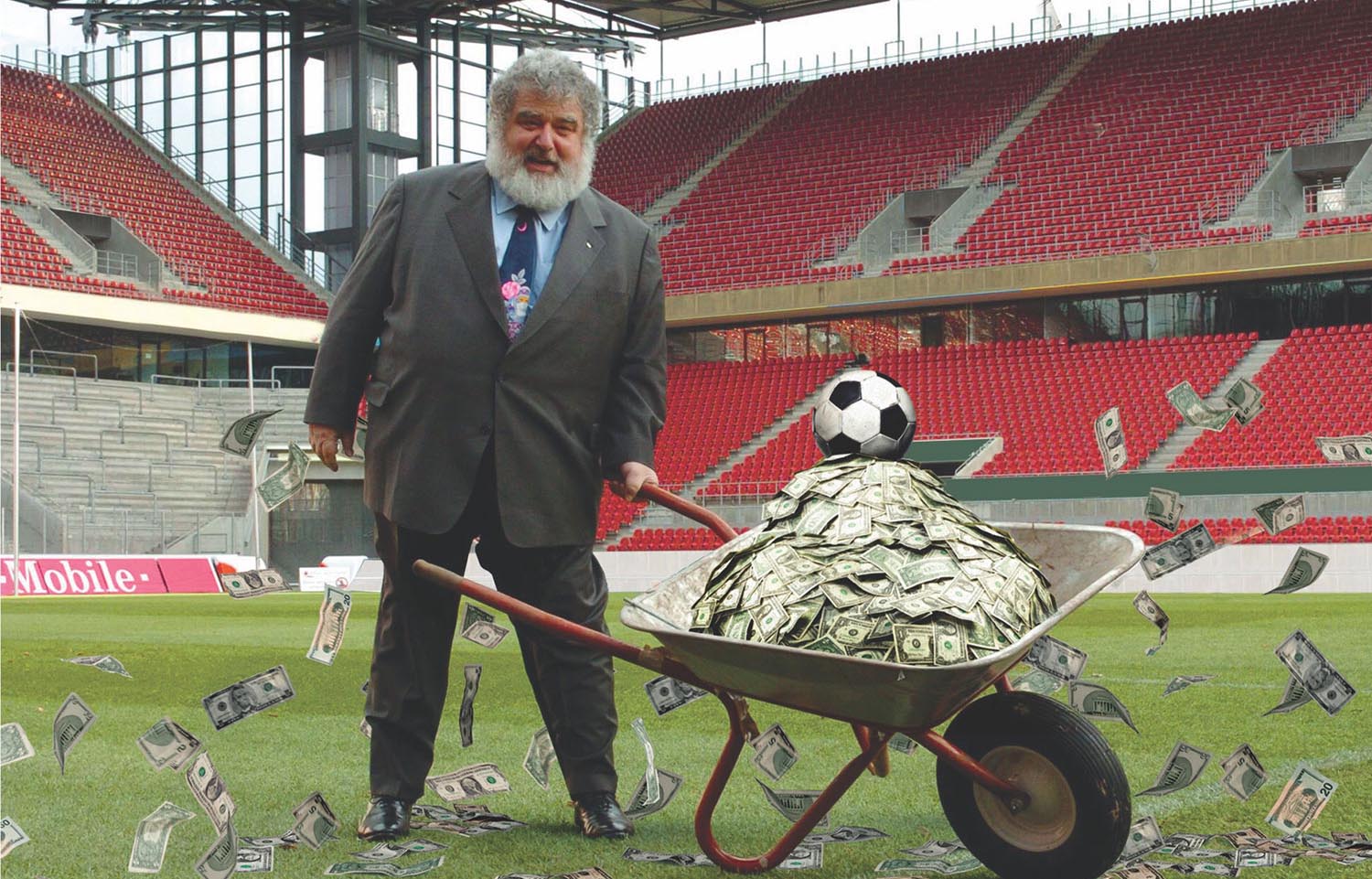 The Inside Story behind the FIFA Scandal
UPDATE!
And now it's going to be a movie!
EXCLUSIVE: Leslye Headland is rewriting to direct for HBO Films a picture based on American Huckster: How Chuck Blazer Got Rich from-and Sold Out-the Most Powerful Cabal in World Sports. Will Ferrell is attached to star as Blazer, a hustler from Queens who managed to wheel and deal his way to the top of FIFA, the governing body of soccer—and the most powerful and corrupt sports organization in the world.
The book was written by Mary Papenfuss & Teri Thompson, and a previous script draft was written by Robert Siegel. Doug Wick and Lucy Fisher's Red Wagon and Ferrell and Adam McKay's Gary Sanchez are executive producing with Headland, and Lucas Wiesendanger overseeing for Red Wagon and Betsy Koch and Jessica Elbaum overseeing for Gary Sanchez.
Gary Sanchez goes into the weekend nominated for Best Picture for Vice, with McKay up for Best Director and Best Screenplay among the eight Oscars for which the film is nominated.
Headland takes the job hot off her new series Russian Doll. She started her career writing and directing the Seven Deadly Plays series at the IAMA Theatre Company. That included Bachelorette and Assistance which both transferred to New York, and Bachelorette marked her directorial film debut for a black comedy that starred Kirsten Dunst and Rebel Wilson, premiering at Sundance in 2012. She then wrote the About Last Night remake, and wrote and directed Sleeping with Other People. Her TV series credits include Terriers(FX), Blunt Talk (Starz), SMILF and Black Monday (Showtime), Heathers(Paramount) and most recently Russian Doll (Netflix).
Headland and Ferrell are repped by UTA; Ferrell's managed by Mosaic.
https://deadline.com/2019/02/leslye-headland-will-ferrell-fifa-scandal-soccer-chuck-blazer-american-huckster-hbo-1202562999/
https://www.slashfilm.com/american-huckster/
***
American Huckster is the first inside account of the international soccer scandal that rocked the world. At the heart of the corruption is the incredible story of a larger-than-life New York soccer dad who illegally raked in millions at the top of the most powerful and dirtiest sports organization on the planet, and became an FBI whistleblower to save his own skin.
Chuck Blazer was a middle-class Jewish kid from Queens who rose from volunteer positions in local youth soccer leagues to the heights of FIFA, becoming a jet-setting buccaneer—and the most notorious informant in sports history. For years, Chuck Blazer skimmed millions of dollars from sports marketing companies, supplicants from nations seeking to host the World Cup, and from FIFA and CONCACAF, the regional soccer association in charge of North and Central America and the Caribbean. He lived expense free on CONCACAF's dime in a luxury apartment in Trump Tower, and stashed his money in offshore accounts and in real estate holdings that included two South Beach condos, and a hideaway in the Bahamas. Instantly recognizable with his unruly mass of salt-and-pepper hair and matching beard—and a rotating crop of arm candy—Blazer was one of the most flamboyant figures in the glitzy social and political circles of international soccer. He schemed with one-time best friend and crook-of-crooks Jack Warner, his putative boss at CONCACAF, and hobnobbed with Vladimir Putin, the Queen of England, Nelson Mandela and Sepp Blatter, FIFA's long-time godfather.
But Blazer turned on his cronies in a heartbeat when the Feds finally nabbed him on fraud, money laundering, and tax evasion. In exchange for immunity, Blazer agreed to use a microphone implanted in his keychain to entrap his larcenous band of brothers—leading to the historic indictment of FIFA officials for racketeering and bribery.
We've got the goods on Blazer with intriguing details from sources in U.S. law enforcement as well from within his intimate circle to tell the story of a massive scandal laid bare by a mesmerizing American huckster.
What people are saying about the book
" The mystery is why nobody guessed, nobody said, "I don't believe it. There's something crooked here." For 20 years Chuck just got richer and richer. Good meal at the best restaurant in town? Let's go again tomorrow night. Nice flat in the Bahamas? Hey, let's get two. That would be Chuck Blazer. Everything had to be super-sized, like him, and he rushed to grab it. From the Trump Tower apartment to holiday homes throughout the Caribbean, Chuck simply charged it.  Sepp Blatter, the president of world football, couldn't care. He had too many other rackets to supervise. But the Feds did. When they took Chuck, in broad daylight, on Fifth Avenue, it took less than an hour for him to agree to wear a wire. From there the biggest corruption story in world sport unraveled. Mary and Teri have done a fabulous job. They've dug deep into documents they shouldn't have seen, talked with people who can't be named. It's a brilliant, gripping piece of work. "
"A great tale told by two of the best."
"Just read American Huckster aka the Chuck Blazer/Jack Warner/FIFA disgrace. Great work by Mary Papenfuss and Teri Thompson. A must read."
"Chuck Blazer is a character straight out of Damon Runyon. He may have been able to extort millions from the Lords of Soccer, but in American Huckster, Teri Thompson and Mary Papenfuss deliver the definitive takedown of a world-class fraud."
"Soccer's ruling elite, we know now, was every bit as corrupt as feared. Tickets were hoarded and sold by insider profiteers. Influential votes and posts were purchased or traded. Chuck Blazer operated greedily inside this closed, venal circle. He became the ultimate fatted cat-turned-rat. In American Huckster, Mary Papenfuss and Teri Thompson have rammed open a locked door, let us fully comprehend Blazer's luxurious, and then desperate existence as swindler-turned-informer. The authors introduce the full cast of charlatans, then go about bringing their nasty hijinks to life. We learn how Blazer and the likes of Jack Warner thrived in a broken, vulnerable system; how the poison traveled up and through what the authors call, "La FIFA Nostra."
Somehow, Papenfuss and Thompson accomplish all this with a writing style and spirit that enthralls, rather than depresses. American Huckster would make a great mystery or suspense novel. Unfortunately for the soccer world, it is nonfiction."
For more information about the book or for author interviews, please contact: